Tatyana Designing and Deborah Gregg Team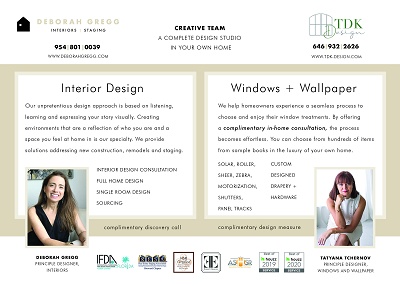 Specializing in custom styles, Tatyana leverages her long term relationship with a talented workroom in New York to oversee her client's projects from start to finish. This level of detailed oversight helps ensure complete client satisfaction. Her trusted installers in New York and South East Florida make measuring and installation simple and worry free.
Phone:
(954) 637-7788
(646) 932-2626
Email:
[email protected]
Website: www.tatyanadesigning.com
Deborah Gregg's unpretentious design approach is based on listening, learning and expressing her clients' story visually. Creating environments that are a reflection of who her clients are and a space they feel at home in is her specialty. Deborah Gregg Interiors + Staging provides solutions addressing new construction, remodels and staging. She is known for her ability to identify the architectural strengths of an environment and utilize design elements to create crisp spaces that are enjoyable, livable, yet stylish.
Phone:
(954) 801-0039
Email:
[email protected]
Website: www.DeborahGregg.com